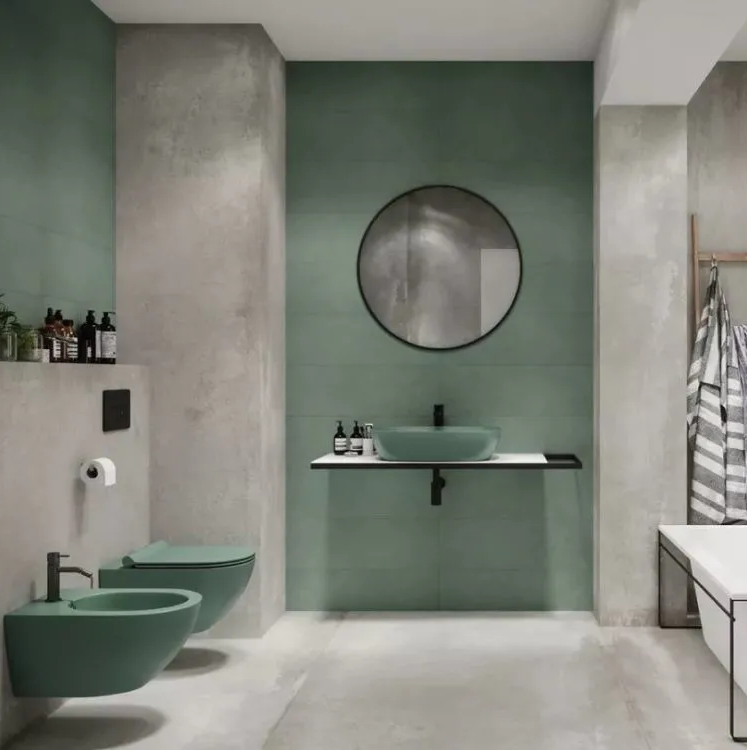 21 Design Styles for the Same Bathroom
In the same bathroom space, the designer made 21 different design schemes. Each change brings a different vibe to the room, a different personality.
If your bathroom could be remade from scratch, which style would you choose?
The first shot of this bathroom space is around the design of a stunning wood-paneled feature wall, textured in a geometric pattern. An elegant modern pedestal sink fronts. The rest of the bathroom is mostly kept white to keep the feature wall in the spotlight.
This colorful design features small teal wall tiles that cover both walls from floor to ceiling. The small size of the tiles makes the room appear taller; their smooth surface prevents dark colors from darkening the room. A white double sink bathroom vanity, a generous vanity mirror also helps break up the expanse of color.
This surreal sanctuary. Use unique bathroom sinks, irregularly shaped mirrors, unusual wall hangings and an oversized weird shower design to make it the kind of bathroom you might find in a modern Salvador Dali home.
This bathroom wraps itself in gold to make yourself feel special early in the morning. A strip of gold tile wraps the white bathroom design like a ribbon tied around a precious gift.
This bathroom uses low color, high texture. Laying herringbone floors, ribbed (indoor concrete underlayment) feature walls and concrete tiles fill this bathroom with muted colors, but their textures give the eye enough work.
Marble and premium geometric tiles look stunning in this off-white bathroom. Even the smallest spaces can be laid out well with the right materials.
This bathroom combines tradition and modernity. Here, a French retro-style chest of drawers acts as a vanity; the rest of the ceramics are completely modern in nature, including a wall-mounted minimalist toilet and bidet.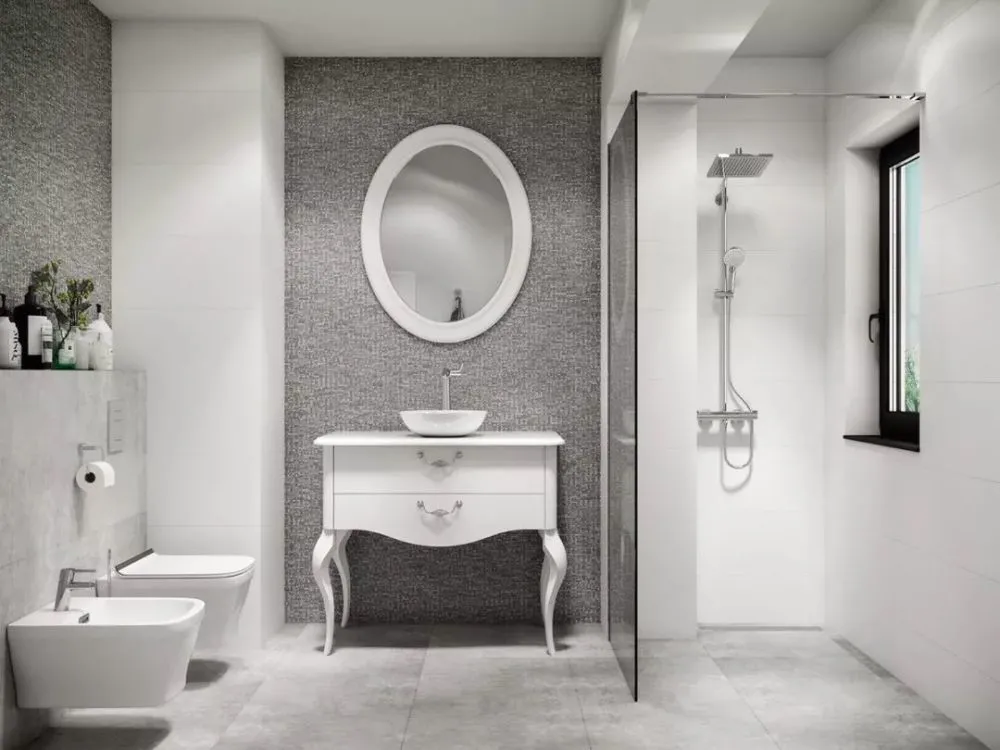 Another French antique meets modern minimalist approach, but this time with a shower instead of a bathtub, plus a darker option for wall tiles.
In a dark setting, this modern black bathtub also shines. Cosmetics are neatly arranged on black shelves. The flush board matches the black boxy aesthetic, and there's a black minimalist toilet paper holder.
The French vintage style vanity is back, but this time with a unique wood block feature wall.
This design employs beauty in balance, with striking tiles confined to the pool walls to balance a chic black framed shower screen.
In this green bathroom: Mint walls, vanity, toilet and bidet all look super fresh in a raw concrete shell. A remarkable wireframe tub design introduces a crisp white element, as well as a razor-thin white vanity.
Stylish and so stylish, patterned tiles can turn a bland bathroom plan into something super special. We also see the introduction of corner showers in this design, curved away to leave a larger floor area and even a more sublime pattern. The shower tray doesn't fit back into the recess, so a small tiled step fills the gap.
If you like natural style, you can look at this design. The natural bamboo wall gives this bathroom a peaceful atmosphere. Greenery above the pool and glass vases on the vanity complement the nature theme.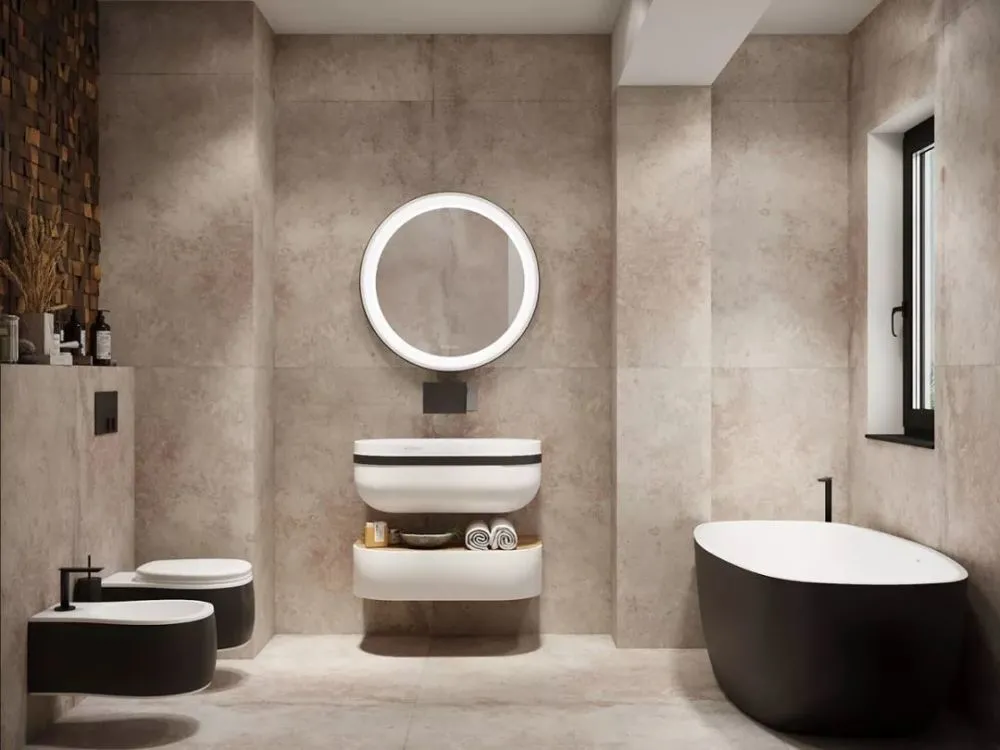 The curves in this sanitary set are beautiful, the whole set looks striking in monochrome, and the vanity mirror is illuminated throughout to complete the look.
In tight spaces, a corner bathroom can provide a space-saving solution. A floating vanity is also a great way to increase floor space and make cleaning bathroom floors a whole lot easier.
Industrial bathrooms are the choice of trendsetters, with this industrial bathroom design, rough concrete + attractive furniture. We see the return of the extraordinary wireframe tub design here, along with a complementary wireframe vanity. Introducing wood on the vanity was an important move as it provided the only visual warmth in the room.
Decorate a modern bathroom with grey and white stripes, then keep warm with wood accents.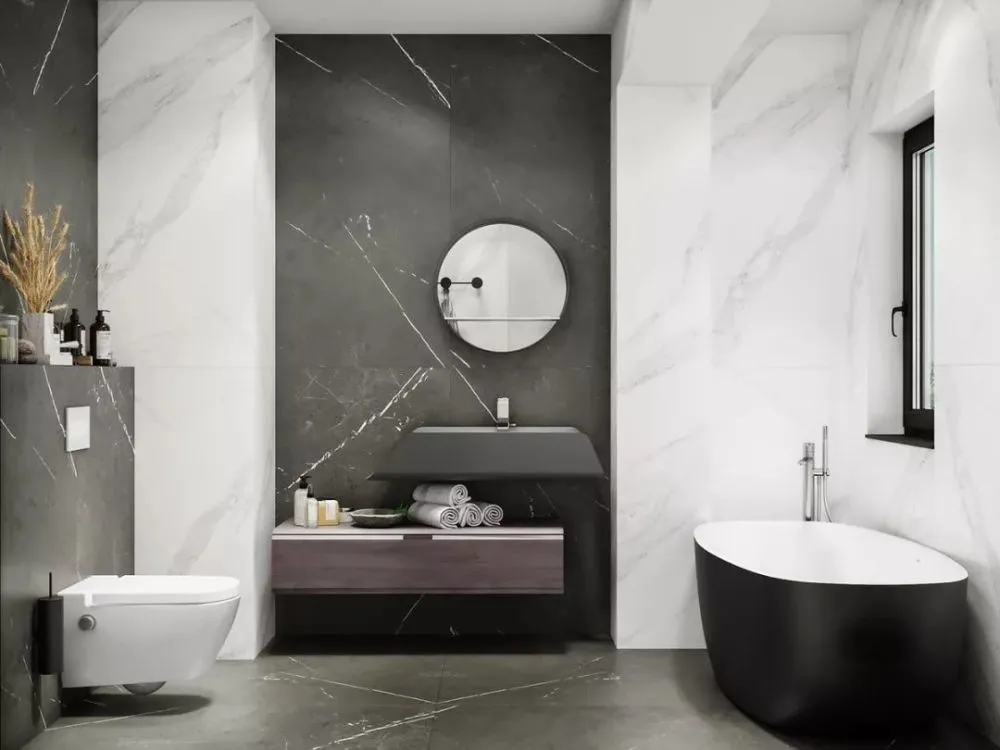 Using a balancing technique, the asymmetrical, staggered vanity design focuses this wall mirror in the room rather than the usable wall area.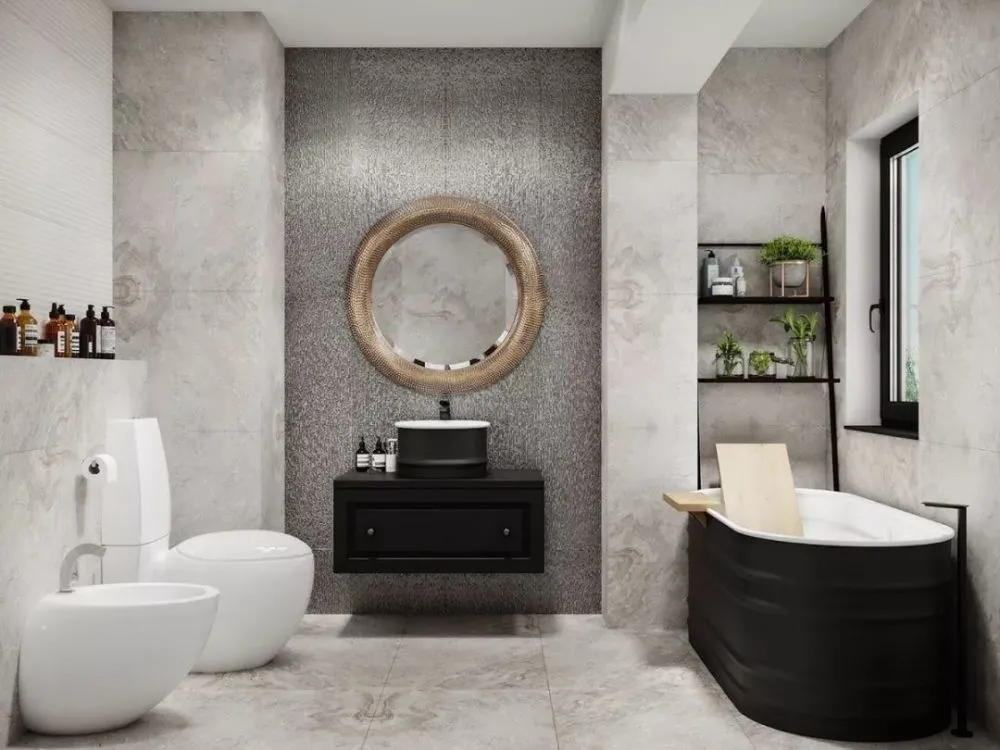 This bathroom follows the theme of shapes. This bulbous toilet silhouette, wide tub and vanity mirror complete the retro theme.
The set features black marble and chrome. Black marble and traditional style sanitary ware shape the design of this luxurious bathroom. A roller tub stands on chrome claw feet, and a shiny towel rail wraps around the double sink vanity.